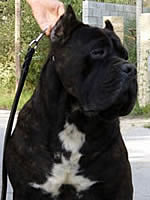 After doing research over the years on importing a Cane Corso into the US, it was decided that I would rely on the help of a very reputable breeder and connoisseur in the Cane Corso community.
Importing a dog can be a very over whelming process to try on your own. Considering it is hard enough to find a good breeder in the US, and foreign countries are no different.
Richard and Laura did an exceptional job bringing my boy home to me. They handled everything from international wire transfers to flight scheduling and were by my side the entire step of the way.
They already had a strong report with Rothorm Kennels and use some of Rothorm bloodlines in their own breeding program. So, in a sense, I owe a multitude of thanks to both About Time Cane Corso and Rothorm Cane Corso for my boy, Rothorm Jy Dream Yunno.
Their pictures and description of my boy were near dead on. However, my expectations were blown away the day I got home with Yunno. I will certainly do business again with Richard and Laura both as a breeder and importer.
Sincerely,
Brian W.
---