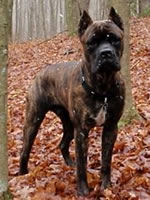 Nero has been such a blessing to us, he is truly the center of our world.  We don't have any children, so he gets all of our attention.   He is ever grateful, always well mannered, over-the-top loving, extremely smart, protective when appropriate...did I mention he is the PERFECT dog and BEST friend!!?  His intelligence is truly remarkable, hardly a day goes by that Art & I aren't amazed by something he has done or noticed.  At our farm, he has a life I wish every dog could share.  He has never had the desire to stray and we have never kept him on a leash (except around vehicles, of course)  I guess it's his protective nature to stick close to us.
---
Nero is the center of our world and I cant even put into words what an amazing dog he is!
Nero is doing wonderful and we can't even begin to explain the joy he has brought to our lives! He gets an incredible amount of attention from anyone we encounter (due to his good looks and regal demeanor). I have attached some recent pics of him. Last week we were out for a walk and took the pics of him standing on the rock - some people approached and asked "is that a real dog!?" They thought he looked like a statue...haha. We always marvel that almost every single person we encounter (lots, since we live in the city) make a point to comment on his beauty and personality.
---
Hi Laura & Richard! Hope all is well with you!  I just wanted to send you some pics of Nero.  He is the MOST WONDERFUL DOG EVER!!  I can't tell you how happy we are :) He went to the vet on Friday and is in great shape.  He has been going lots of places and meeting tons of people and dogs.  I am so impressed with his mild disposition..what a sweetheart.  Thank you for everything.  We will be sending updates and pics often!
Hope all is well with you.  Just wanted to give you an update on Nero (Rimmon).  He is doing wonderful and we are thrilled with him.  He's 36 lbs already! I have attached some pics of him.  He gets along wonderfully with other dogs and people and has a BLAST at the dog parks!  :)
Take care and hope to talk to you soon!
Liezl & Art
---
| | |
| --- | --- |
| | |
| | |