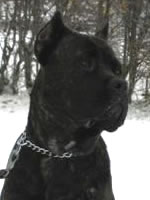 Hi Laura and Richard! Thank you so much for the pictures!
Paymon looks awesome and we can't wait to get him home to us :)
Attached couple pictures from Paymon! We will take better pictures next week when we go to our summer place to celebrate midsummer. We have really nice nightless nights here in Finland at the moment so we will try to get some nice shots from Paymon there. Paymon is doing very well and growing fast, he is 56lbs and looking very handsome!
We call him Peto which is a finnish word for beast =) He is very smart and a quick learner, but also very stubborn like we mentioned earlier. He would like to do everything by his own rules =)
We are very pleased at him, he is exactly what we hoped for!
We will write you more about him next week and send you some new pictures.
Have a very nice weekend!
Paymon is now about 62cm high and weights 40kg and growing. As you can see he is looking a lot like his father. We love his character, he is always happy and just loooves everybody :) He is also very steady, fearless and always alert.
If we talk about his personality, we could not be more pleased with hem! He is always happy, very easy going but alert! He loves all the quest that comes by but doesn't allow anyone inside the house when we are not home. So hes perfect pet and perfect guard at the same time, just like we wanted! We just love him and he loves us back =) He likes to play out in the snow with our pointer and after that he rest by the fire.
We have enjoyed every moment with Paymon!
---
| | |
| --- | --- |
| | |
| | |