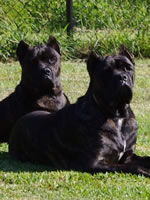 After over a year of research on the breed itself, my husband and I started our search for the right breeder for us. Being rescue and adoption advocates, the decision to find a reputable, responsible breeder was one that we took very seriously. One of the main qualities that drew us to About Time Cane Corso is their dedication to taking responsibility for the lives they create. Their commitment doesn't end with their endeavor to produce beautiful and healthy dogs. It reaches much deeper to include going to great lengths to ensure that those animals are well-placed in capable and loving hands, as well as doing everything possible to keep those animals out of shelters or rescues for the rest of their lives.
After the application process, Laura and Richard took the time to understand exactly what we hoped to find in our new family member. When we expressed a desire to raise two littermates, I really appreciated that they took the time to make sure we had realistic expectations of what that would entail. Once satisfied that we were informed, prepared and capable, they made sure that we got the perfect pups with temperaments suited for our lifestyle, as well as being suited for growing up together in the same household.
Our puppies are everything I ever wanted and everything I didn't even know I could have. They amaze me every day with their agility, beauty and intelligence. They are loving and affectionate with us, with each other and with their other three housemates (a Shih Tzu, a Chihuahua and a Pekingese). They are so intuitive and easy to train that I sometimes think they understand every word that comes out of my mouth. At 7 months old, they are energetic, playful and gracefully athletic. Watching the two of them play together is captivating, and their beauty has ignited an artistic side of me that I was unaware of until I found myself buying a new fancy camera to capture every moment. Amazingly, even though they are so energetic and rough and tumble during playtime, when it's time to come in and settle down, they are happy to do so. Even if they have been in a crate while we were at work all day, they eagerly lounge around watching television with us. It's almost as if they just want to do whatever we're doing…. and it doesn't matter to them what it is. They just want to be next to you.
Even with the challenges presented with raising a puppy, let alone two, they have been the most enjoyable pair of dogs I could have ever imagined. It has also been extremely reassuring knowing that we could depend on Laura and Richard for guidance along the way. We have spent collective hours on the phone with them throughout this process, and each phone call has the comfort and familiarity of gabbing with an old friend. They have never discounted any of my endless "new puppy mommy" jitters and frets, and they have been reassuring and encouraging throughout. I always appreciate knowing that they are accessible and eager to help if we need them. It has become evident to me that sending their puppies away to their new homes marks the beginning of a relationship for them rather than the end. That is so important and appreciated, and it lets me know that I made the right decision when I chose them. Our experience with Laura and Richard has far exceeded our expectations, and I look forward to the future with our new puppies and our new friends. :)
Sara & Straus
We had our first "intruder" experience last night.  Thankfully, it wasn't really an intruder.... it was Straus's brother, Shaun.  He showed up unannounced and let himself into the house (without knocking andbeing invited in). 
Ruckus was the first one to see him, and he went absolutely NUTSO!  Then Havoc raced to the back door, and the two of them together shook the house with their intense barking.  It was terrifying and fascinating and awesome all at the same time.  LOL  It all happened in a matter of seconds, but it seemed like it was in slow motion.  When I finally made my way through the house, I was almost too scared to look and see who was standing there.  Shaun was frozen in place with wide eyes, not saying a word. 
As soon as I started talking to Shaun, the boys calmed down, and they walked past him to go outside.  Shaun has only ever seen them one time before, and it's been a long time since then, so they don't know him.  They did an awesome job alerting me and keeping the "intruder" at bay....and an even better job at calming down when they sensed that he was not a threat.  I was actually pretty happy that the situation presented itself because I've often wondered what they would do.  :) 
---