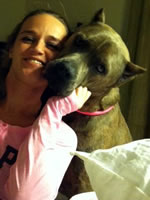 Dear Laura and Richard,
Thank you so much for such an amazing addition to our family and making it such an easy process. Jayda is the most loving, caring dog we have ever owned!!! She is so cautious and protective around our son (Noah). We couldnt dream of having a better family friend.

Thank you both and About Time for making our family complete.
Jeanne and Josiah
---
Dear Laura and Richard,
I just wanted to thank you so much for our bundle of joy you sent to us!
'Jayda' is better than perfect!
She is so mushy an protects the baby it is so amazing! I attached a couple of pictures of her. She is such a great puppy.
Thank you so much again.
Jeanne H. & Josiah B.
---