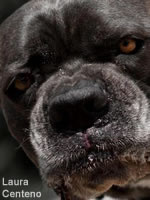 Getting a Corso from About Time Cane Corso was an amazing experience. Richard and Laura are fantastic breeders and were available and eager to help with any challenges or questions I had regarding feeding, health, or training for Cielo. They truly care about their dogs and it shows.

Cielo and I have had an amazing time in the world of French Ringsport, and we are continuing to make waves. People are amazed by her drive, athletiscm, and willingness to work. She has a nice full bite on the suit and has been coming along nicely. The amazing thing is, we just started training French Ringsport with the Southern CA All Breed Ringers Club when she was three years old and we achieved a Brevet in six months!
The thing I love most about Cielo is that she is a beast on the field, but when we come home she is just my little baby and she gets along great with my pitbull and my Toy Manchester Terrier. The possibilities with an About Time Cane Corso are endless.

Best Regards,
Tex Kim
---
Another FIRST in Cane Corso history! About Time's Cielo is the First Cane Corso to achieve the first leg (of two) for Ring One! (And the First female Corso to earn a Brevet title). Not only that, but she beat five Belgian Malinois in the co...mpetition as well at the same time! CONGRATULATIONS to her owner Tex Kim for his hard work and training with her - We're proud of our accomplished dogs and their owners!
---
FIRST Female Cane Corso to achieve a Brevet (French Ring Sport) title!
FIRST Cane Corso to achieve the first leg for Ring One (French Ring Sport)!
... and she beat Five Belgian Malinois while doing it!!!
| | |
| --- | --- |
| | |
| | |
| | |