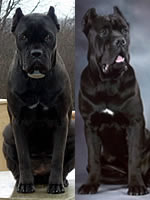 Our search for our ideal cane corso began nearly one year prior to the decision to purchase our new puppy from About Time Cane Corso. After searching in the U.S. and abroad, we found no other breeder with Laura and Richard's enthusiasm and regard for the breed and the preservation of the traditional Italian standard. We continue to be impressed by Laura and Richard's unending support, and most especially, with our Chiara's temperament, beauty and athleticism.
Sincerely,
~ Shawn B. Olson, Esquire, and
Dr. Michelle Thompson-Olson
---
Laura & Richard, Chiara sure is a little spitfire. I am hoping in this next round of classes that I can finally get her CGC and therapy dog cert. However, she certainly has a mind of her own when she is out of the house and off the property around other dogs. She loves to play very energetically and that often involves running the other dogs over (including a 180 pound Newfoundland!). Fortunately, she is the most faithful and loving canine companion I have ever known.
She is a vibrant beautiful dog. We still get so many compliments. Her behavior and temperament still amaze most everyone. Of course, we have put a lot of time and love in to training her. However, it is evident that she comes from a pedigree of stable personalities.
I am so excited about this coming year or two with the corsos as I hope we become much more involved. Anyway, thanks again, the emails and info are always appreciated and I actually very much look forward to them as you are the only people we have found to develop a real trustworthy connection to in the corso community. I really don't have an interest in becoming involved in politics and communication with people who are unfriendly in the business, but it is difficult because I am developing a real passion for this breed and would like to get more involved as time goes on. What to do??????
Had Chiara to the vet for a yearly checkup and vaccination. They all said unequivocally that she is one of the most beautiful and good tempered dogs in the practice. In fact, her new vet has had corsos as patients over the years and told me that she was the first one that has not needed muzzled or restrained in some manner for examination. She thought she was one of the most stable and best behaved dogs she has ever seen in her years of practice (I could disagree some days : )). She encouraged me to get Chiara a companion, if possible, from the same breeder. So, kudos to you.
As Chiara reached 18 - 24 months, she has begin taking her duty to guard the property much more seriously, despite the fact that she is a wiggle worm and overjoyed to see most any guest. A recent knock at the front door from uninvited and unwanted guests proved to Michelle that Chiara is discerning about who should be on our property and who should not. She came off the back deck in a flurry around the front of the house impeding their forward progress, hair raised, teeth out and barking. If I were them, I would have turned pale, as while there are bigger corso, she is a lot of rippling hard muscle and teeth to catch you by surprise!
I truly want to thank you and Richard for your integrity in living up to the promise you made to us after we decided that Chiara will not be shown and/or bred. It is just another thing that assures us that you and Richard have a lot of integrity and are NOT in this exclusively for the money like many breeders are. With that, we thank you for the opportunity for a puppy from a future litter.
---
Nico Is a character if I have ever seen one. Talk about energy, drive, wow. You can definitely tell he is a boy. He runs off with Chiara's toys, ate his own satin ball this morning and then dove through the air into her bowl to try to eat hers, and tried to take her rib bone out of her mouth (which Chiara of course immediately set him straight on). He did, however, sleep very well throughout the night, and seems to relate well to Chiara. He is a little troublemaker, but we love him. We are very grateful for Nico. We both know that you tried to give us the best you produced. He is absolutely beautiful and full of life.
---
| | |
| --- | --- |
| | |
| | |