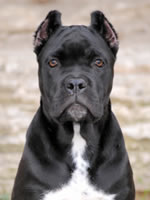 Laura & Richard,
Thanks so much for trusting us to raise this girl we are enjoying the heck out of her. We are VERY impressed by your dogs!
I have some videos of Audi with my son that are amazing on my phone I want to share with the both of you.  It is amazing how wonderful she is with him.  Where do I even start to describe what a wonderful girl Audi is... This was not my first Cane Corso  but her temperament and balance are my favorite of the 3 that I have.  She has great environmental adaptabilty  which is why she goes nearly everywhere with our family.  She has excellent prey drive and does well out on ranches hunting hogs and any other varmints we come across in our travels.  We are going to get in to some more advanced training this winter my wife is interested in having her be a therapy dog, I am interested in learning about mondio ring.  Time will tell who gets to do what with her but she has the capability to do whatever anyone could possibly do with their dog.
The two of you have been fantastic to deal with.  I love learning from you, all the talk about different lines starts to become an obsession.  I have always found it so excellent how much knowledge and love for this breed the two of you have.  The passion for what you do is obvious and it is so contagious that it is easy to see why people who are lucky enough to get a puppy from you become like extended family.  I admire the program  that you have worked so hard to build and look forward to growing with you and continuing to learn about this majestic breed.
Audi is a UKC Champion the final leg was won at the SACCI 2011 Midwest Regional where she was Best in Breed at only 11 months old.
I will be sending you photos in hog hunting attire, at shows and just being beautiful soon!
Thanks,
Jay Wilson
---
UKC Champion, and SACCI MidWest Regional Specialty Best In Show Winner, by 11 months of age!
| | |
| --- | --- |
| | |
| | |
| | |