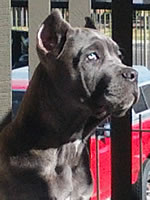 We can't thank Laura and Richard at About Time Cane Corso enough.
Though we did not get our wonderful addition, Ares, from Richard and Laura they were kind enough without any hesitation to take us under their wing and help us out.  We did not even have our little guy more than a couple days and put our trust in a couple of, then, strangers to take our puppy on a road trip up to CO to get his ears professionally cropped.  They returned him to us safe and sound with helpful instructions to help him heal quickly.  We have kept in touch with them and they are always more than willing to answer our questions.
If and when we get another Cane Corso, we wouldn't even consider getting him/her from anyone else.  Laura and Richard are an amazing couple with an amazing family and we again can't thank them enough.
I attached some pictures. Our dogs ears are looking awesome. Thanks again soo much for every thing you did for us.
Paul & Jamie W., Abq, NM
---