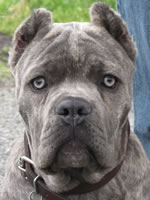 My experience dealing with About Time Cane Corso was unbelievable.
The process was smooth with very clear direction on next steps. Contracts were very easy to follow and understand. Communication with Richard and Laura was easy and they were very accessible and responsive when I had questions.
My pup, Demon, is now 7 months, 60+ lbs and very well behaved. He's very tentative and curious. Always aware of whats going on around him.
I'm very pleased with my choice of breed and the company I chose to deal with.
Thank You Laura & Richard.
Charles
---
| | |
| --- | --- |
| | |
| | |