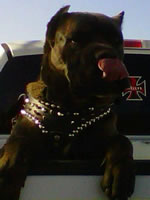 Richard & Laura, About Time Cane Corso,
Just wanted to take the time to thank you for giving my family and I the opportunity to buy one of your pups. 
Roman, aka "About Time's Sueno de Afriel", is by far the BEST dog I've ever owned.
We don't even consider him a pet anymore.  He's more like our son.
I am a law enforcement officer and work late shifts sometimes. I leave to work way more comfortable now that Roman is around.  My phone bill is also cheaper now that my wife doesn't call every time she hears a little noise. Ha ha!
He is extremely obedient and gentle... until some unknown person walks up. He is very well behaved around my one year old daughter and she absolutely LOVES him. She tends to run off as soon as he stands up, but that's not a surprise to us. He's a biiiiiig boy. I can even walk him at the park OFF-leash without him wandering off or bothering other people. He even stops to wait for my wife to tie her shoe. It's like an instinct for him. He also loves to watch me wash our vehicles outside and even sits in the back of my truck while I'm washing it. When my daughter is in her stroller he'll sit next to her while she talks away.
I have so many good things to say about Roman and I would recommend About Time Cane Corso to anyone with or without a family.
Thank YOU Laura and Richard. He really is an awesome dog. Thanks again About Time!
Adrian & Family
---