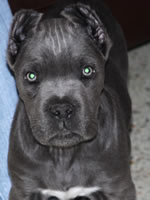 Dear Laura and Richard,
You are raising Cane Corsos with a truly great temperament and body type. He is the true meaning of a dog, extremely intelligent, loyal, very sweet natured and great with the family! He even obeys commands from my 7 year old.  He loves everyone and demands to be with the family at all times. He has been raised inside the house with the family and my two small dogs and gets along with them just fine. I established leadership and worked on basic obedience with him as soon as he arrived home. After searching extensively for breeders I came across About Time Cane Corso web site and was very impressed with the amount of work and dedication that is put into the web site. Everything posted in the site is true, and after speaking with Laura and Richard I was satisfied with their professionalism and their willingness to always answer/address my questions and concerns (even after I had received my puppy).  I feel comfortable that I can call them with any concern that I may have during the life of my dog.  I would not hesitate to recommend About Time Cane Corso to anyone interested in obtaining only the best of this breed.
I think it should be mentioned for anyone searching to obtain this rare breed for their home, that quality in the bloodline should be at utmost importance and certainly overcome price. You get what you pay for. I unfortunately had to learn this the hard way, I will not get into details, but I purchased a previous cane corso dog from a local breeder, to make a long story very short after six months of heart-ache I lost my dog and the money. It is not worth the heart-ache and tears to save a few hundred dollars. No one should have to go through this but unfortunately there are too many unprofessional breeders out there.

When I first contacted Laura and Richard they asked me what I was looking for in a dog. I stated that I was interested in obtaining a companion that will love and protect the family, a dog that had to have an even minded temperament was most important to my family. I must say that his temperament exceeded my expectations. I have a dog that can have his ears tugged on by child and not have overly aggressive tendencies as well as be at your side in public without making you fear possible lawsuits. I enjoy taking him places and socializing him because he behaves so well. I often have people come up to me and comment on how gorgeous a dog he is. I'm often asked his breed, after saying "Cane Corso" about five times I continue on my way with my best friend.
I thank you for my wonderful companion. I feel very lucky to have such a beautiful, intelligent Cane Corso.

I have attached some pictures of him for you guys to see, I will send more as he grows. I hope someday to purchase another Corso from you. Thank you for putting your hard work and love into raising these quality dogs and preserving the quality bloodline of this beautiful breed.
Orlando L.
---