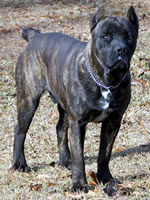 Richard and Laura, I hope everything is going well for you guys. Just wanted to drop you a few new pictures of Bratzi. He's one of the smartest, most loyal dogs I've ever been around. He's already started guarding/protecting my wife and I along with our two other dogs. He's scheduled to graduate from puppy classes this weekend. He has exceeded all our expectations and we couldn't be more pleased.
Bratzi is absolutely the best dog I've ever owned or come in contact with. Thanks so much for giving us the opportunity to add him to the family. He continues to get along well with the other dogs, and he loves kids. Petco is by far his favorite store and all the employees know him by name and which treats he likes the most. He is, however, extremely cautious of strangers, especially when Amanda is around. Very impressive. Hope everything is well with you both. We look forward to seeing the pics of your new imports.
Hope everything is going well for you guys.  Sounds like you've been busy lately. Abadden "Bratzi" is doing great.  He's just a happy go lucky thing that gets along with everyone.  Amanda and I now have an 18 month old little boy, Rhett. He and Bratzi are already the best of friends.  Bratzi is extremely gentle with him but also ultra protective. Great dog! I'm trying to talk my wife into making room for a female :) If I succeed, she'll definitely come from you guys.  I've attached a couple of pics.  I'll also try to send you some of he and Rhett interacting.  Great family dog.
Thanks again, Sage and Amanda
---
| | |
| --- | --- |
| | |
| | |